How do you know when to water your established lawn? It's easy, water your grass when you see these three signs:
Curled up leaf blades in the evening (wilting blades during the highest heat of midday sun is not a good indicator – always check the condition of the leaves in the evening).
Blue-grey colour instead of green.
Footprints or lawn mower tire tracks remain visible long after being made.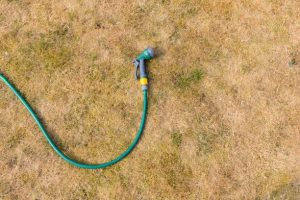 But remember none of the above signs indicate your lawn is about to die.
Your turf has the ability to turn brown and go dormant but stay alive for three to four weeks during periods of long dry.
If you live in an area with water restrictions, it is a good idea to let your grass go dormant between watering.
However, if you go for three to four-weeks without rain, water the grass long enough to moisten the top 12cm of soil – this keeps the grass alive.
Another way of conserving water when irrigating your lawn is to use a wetting agent. Wetting agents are great products that help you use water more effectively and efficiently.
In short, wetting agents are type of surfactant, like detergent, that attracts water to the soil surface and helps it soak in. Such products like LawnPride's HydraMaxx 5L Concentrate is an ideal liquid soil wetting agent used when watering is restricted.