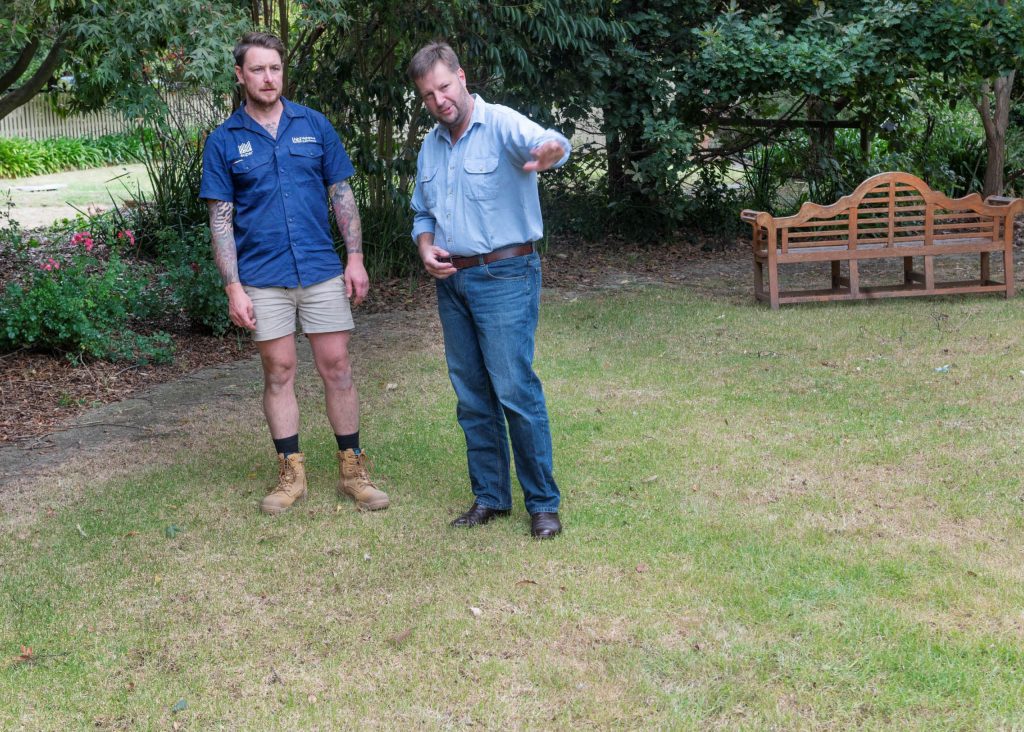 myhomeTURF has graced your screens on the new DIY series – DVine Living – hosted by former "The Block" favourite Dale Vine.
Over four weeks, the myhomeTURF team and Dale, himself a landscaper, designed and assisted in delivering a five-minute TV segment outlining the whole DIY lawn process from start to finish at four different Melbourne locations.
Job 4 is the last job for the season, but also the biggest, so this time Dale (pictured with homeowner Leigh) pulls out the "big machinery" to lend a helping hand – and lays some sensational turf.
Job 4:  The biggest luxury lawn makeover made easy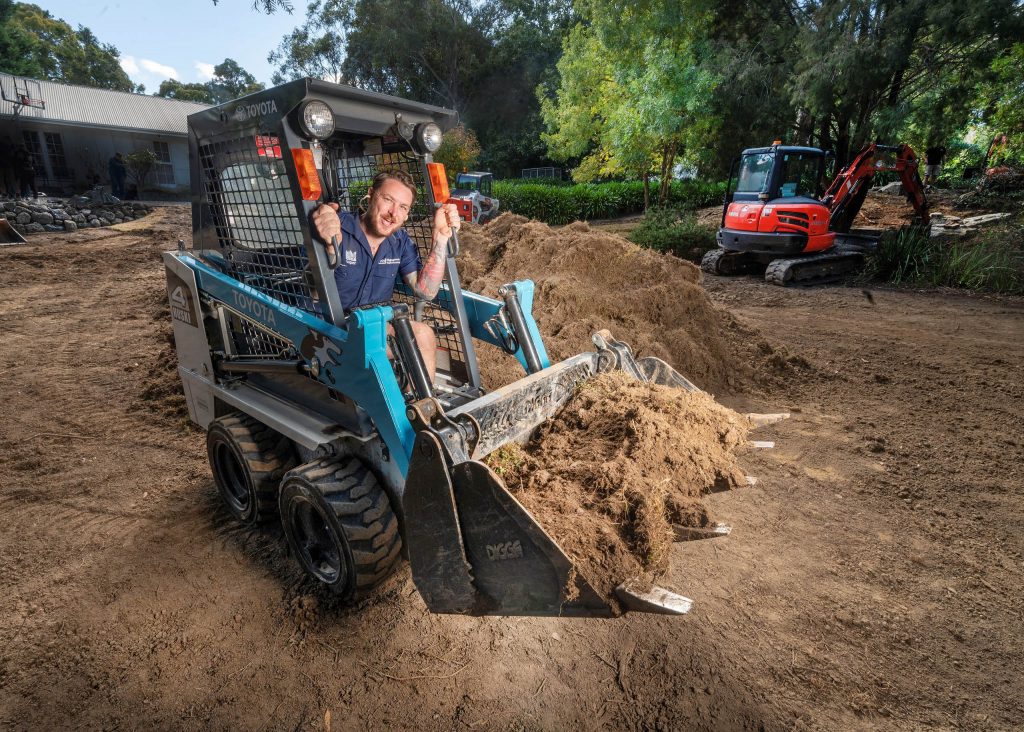 Today we are in the leafy suburb of Park Orchards, situated at the gateway to Victoria's Yarra Valley.
This is our biggest turf job for the DVine Living series, which means we need to bring out the big machinery.
So here we go with our biggest luxury, lawn makeover!
Let's hear from Leigh – the homeowner
Leigh explained how the family had been trying to renovate the area (480 square metres) for some time.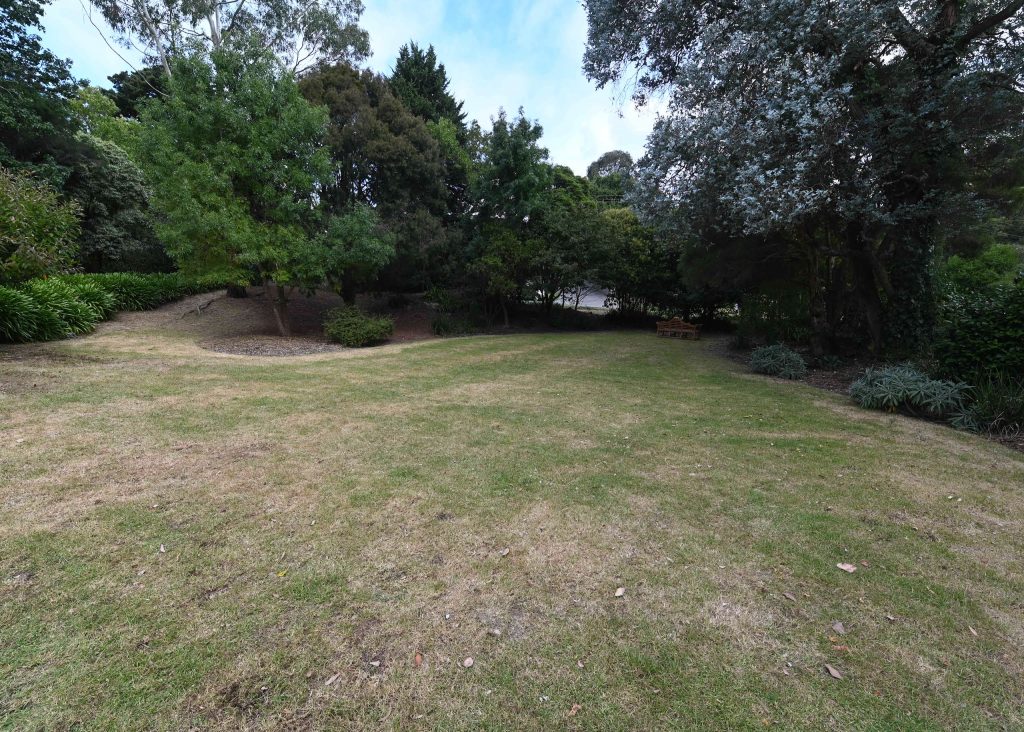 "I was doing some research and came across myhomeTURF – we have lived here for 11 years, renovating our lawn has been something we have really wanted to do – in fact it has been a bit of a dream!" Leigh said.
"The drainage on the site is also poor, so the lawn is not nice under the family's feet."
Leigh said they wanted to upgrade the site by taking it from a patch to a lawn so they can use it year-round, play on it, kick the footy, have BBQs and enjoy the area.
What turf to choose?
For Leigh's large backyard Dale suggested Prestige Buffalo, which is the ultimate choice for lovers of dark green, soft-leaf lawn.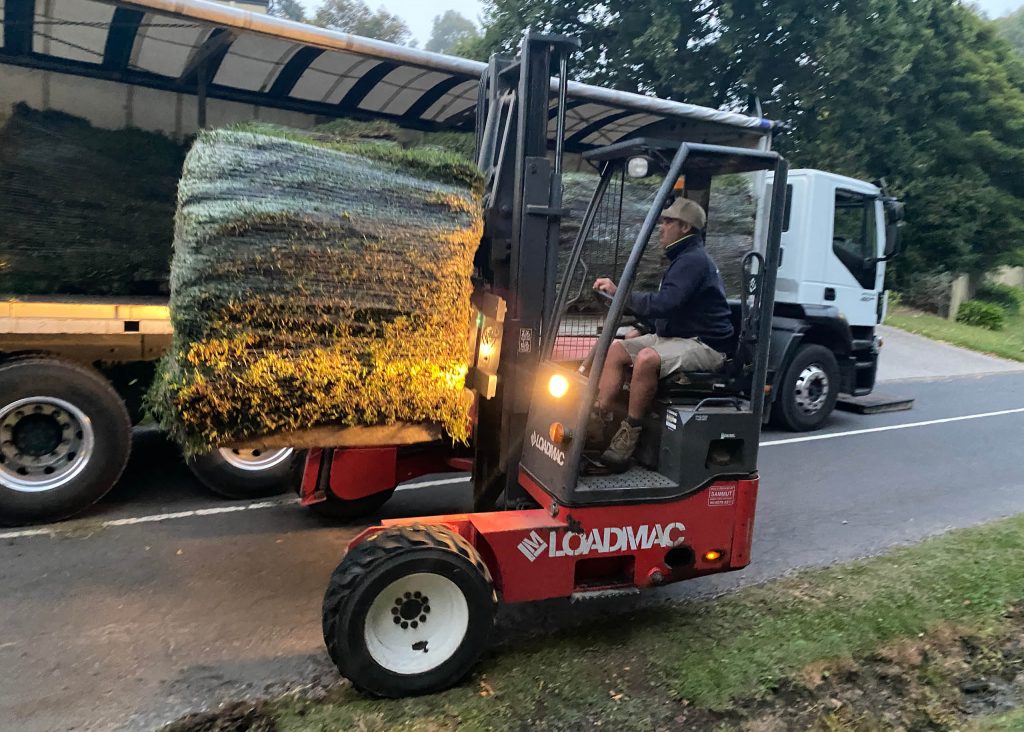 "As the site is central to traffic from the family and dog, Prestige's fast growth habit allows it to recover quickly from wear and tear," he added.
"The area is also under some shade, and Prestige Buffalo can tolerate up to 70% shade conditions, so it is a suitable choice."
Prestige will give and overall appearance of a dreamy, luxurious lawn and lift the appearance of Leigh's home.
Our local myhomeTURF farmer, Australian Seed and Turf is on hand to deliver high-quality Prestige Buffalo for this job.
"When measuring your lawn always allow an extra 5-10% from your measurements just in case – it is better to have a bit more than not enough!" Dale said.
If your located elsewhere in Australia, you can find your local Prestige Buffalo Supplier here.
Site preparation
The importance of preparing the site cannot be overemphasised. For optimum growth Dale said that a new lawn needs four things – three of which are obtained from the soil.
Air
Water
Nutrients
Sunlight
Dale explained that with a little bit of planning, some quality topsoil and help from the team at myhomeTURF with their machines, they could prepare a good foundation for Leigh's new lawn.
Two weeks ago, the team from myhomeTURF came in and sprayed the entire site with herbicide to kill the existing lawn and weeds.
Once the site is cleared, Dale recommends doing a soil pH test to see what sort of condition your soil is in. You want about a pH range of between 6.5 and 7.5 which is nice and neutral.
To improve the soil structure on this site because it is clay-based, we'll throw in some gypsum, organic fertiliser, and new topsoil.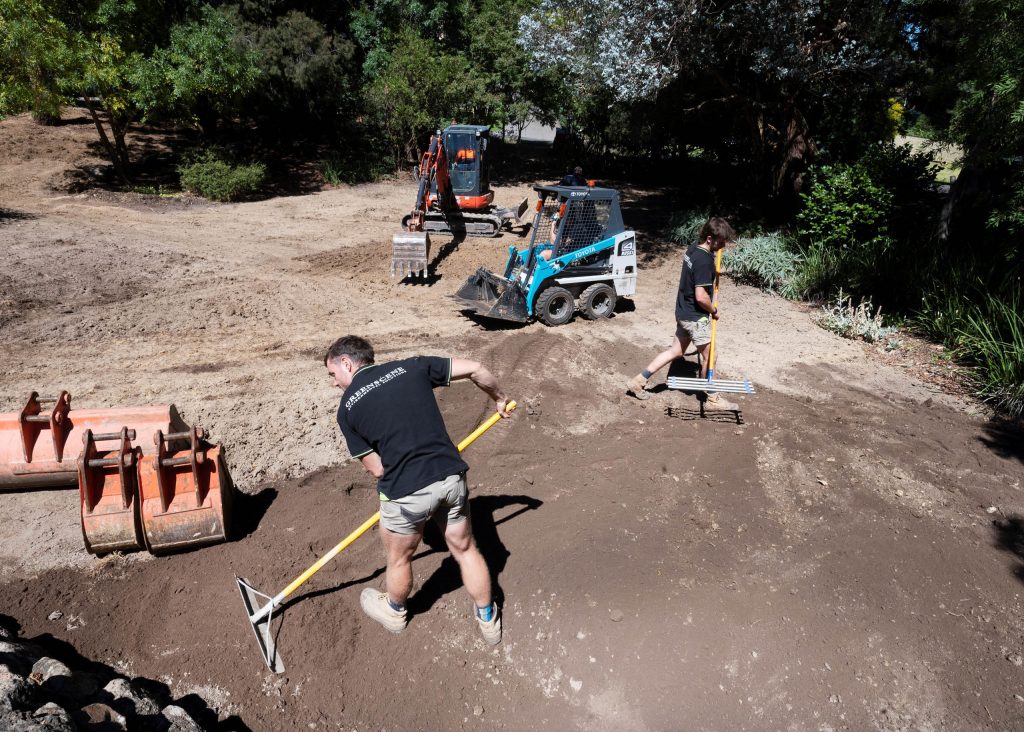 For topsoil I recommend a good lawn mix which is something all garden centres can supply as turf underlay.
We'll also add gypsum which helps improve the soil structure and aids water penetration.
Put simply, before laying any turf it is vital your topsoil structure is healthy this also helps to improve the level of the site and create a nice bed on which to lay the turf.
Why Prestige Buffalo?
Prestige Buffalo turf will offer Leigh and the family a beautiful, no-fuss lawn that maintains a deep, dark-green lush colour year-round in this temperate climate.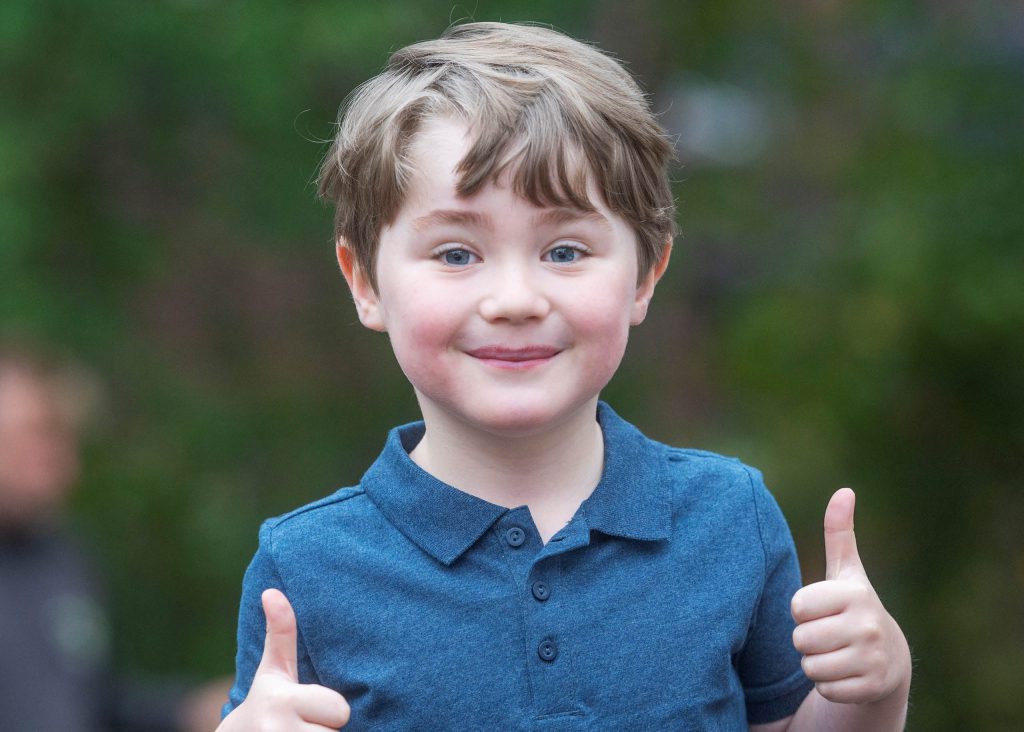 With a fast growth habit, Prestige can recover quickly from the wear and tear of Leigh's family (son pictured) and their dog.
As the variety is low thatch, it's also low maintenance for a busy person like Leigh.
Like all warm season grasses, it will brown off in drought if not watered when the leaves start to wilt.
Dale explained that Prestige lawn was well-suited for most parts of Australia from Queensland to Victoria, South Australia and Western Australia.
"It can be established year-round except in cold climates during winter, and where it is below freezing," he said.
"And you can expect to pay between $13 -16.50 a square metre for it."
Laying the turf
Before you start laying your turf Dale recommend applying an Under Turf Starter Fertiliser and Water Crystals to help the soil retain any water. It will also provide the necessary nutrients for the roots to grow into a nice green lawn.
Under Turf Starter Fertiliser comes in 2 handy sizes 900gm for the smaller yard or 4kg for a more sizeable area.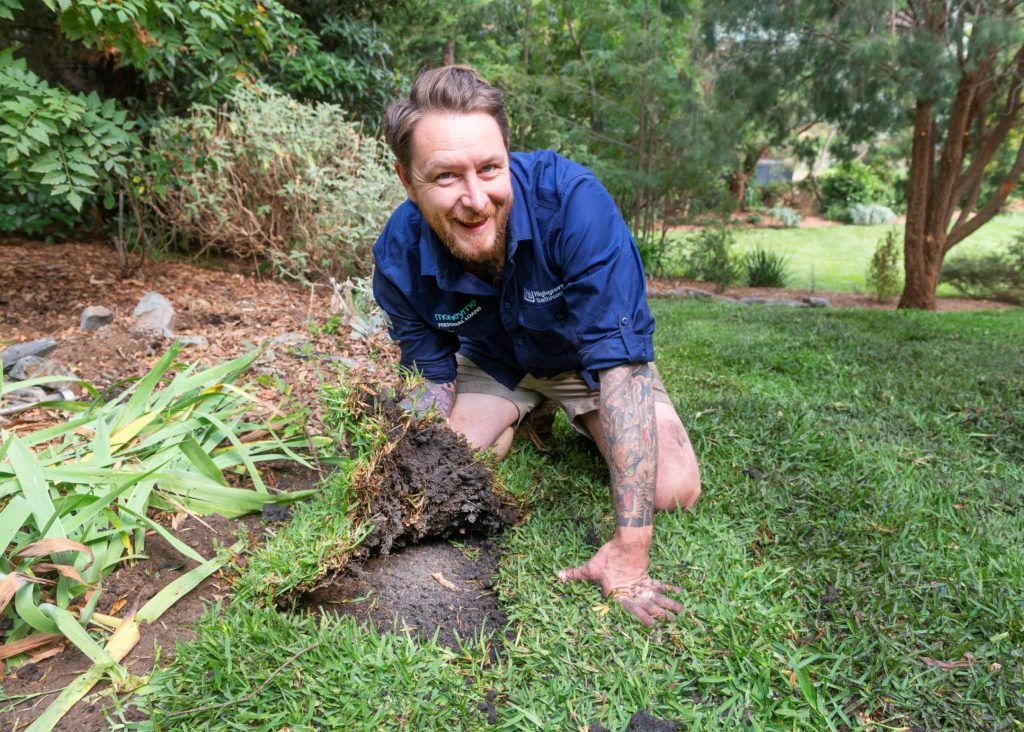 A little tip when laying your turf is to make sure you stagger your joins in a brick-like fashion and use a large sharp knife to trim corners.
If you continue to lay full lengths of turf together you will end up with the same join line all through your lawn. To stop this from happening, simply cut every first piece of every second row of turf in half and remove it. Then lay a full one – half one and so on … and your joins will be staggered.
Butt and push your turf edges against each other tightly but don't ever stretch your turf.
Once the turf is laid be sure to give it a good soaking then you can roll out the turf slabs.
Watering your lawn
An irrigation system is a wise investment when installing a new lawn – Leigh selected Rain Bird wireless controller because of the following features:
A scientific approach to watering made fun and easy – CONTROLLER is neatly tucked away in garage.
REMOTELY CONTROLLED by YOUR mobile with WiFi with the ease of pressing buttons (you can be interstate and still remember to water your turf).
RAIN SENSOR – automatically switches off the controller and the mains water when it is raining so not wasting water.
Leigh has an extremely busy work/lifestyle so it makes send to choose a fully automatic system.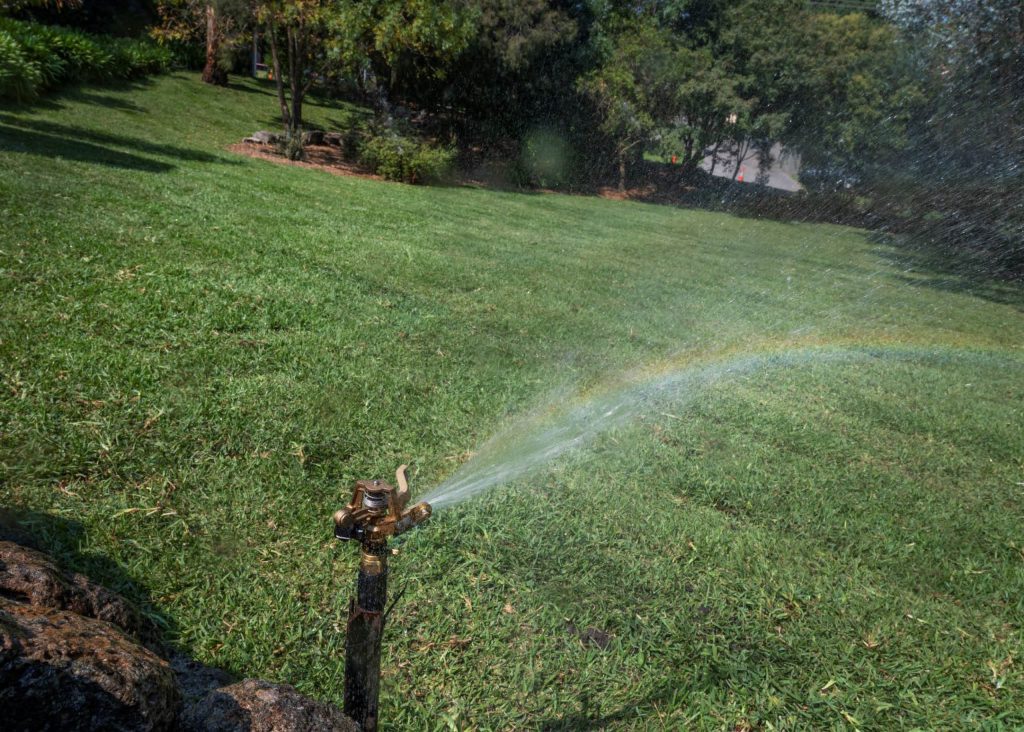 How do you know when to water your established lawn? 
It's easy, water your grass when you see any of these three signs:
Curled up leaf blades
Blue-grey colour instead of green.
Footprints or lawn mower tracks remain visible long after being made.
Now, remember none of these signs indicate your lawn is about to die.
Your turf has the ability to turn brown and go dormant but stay alive for three to four weeks during periods of long dry.
Leigh's verdict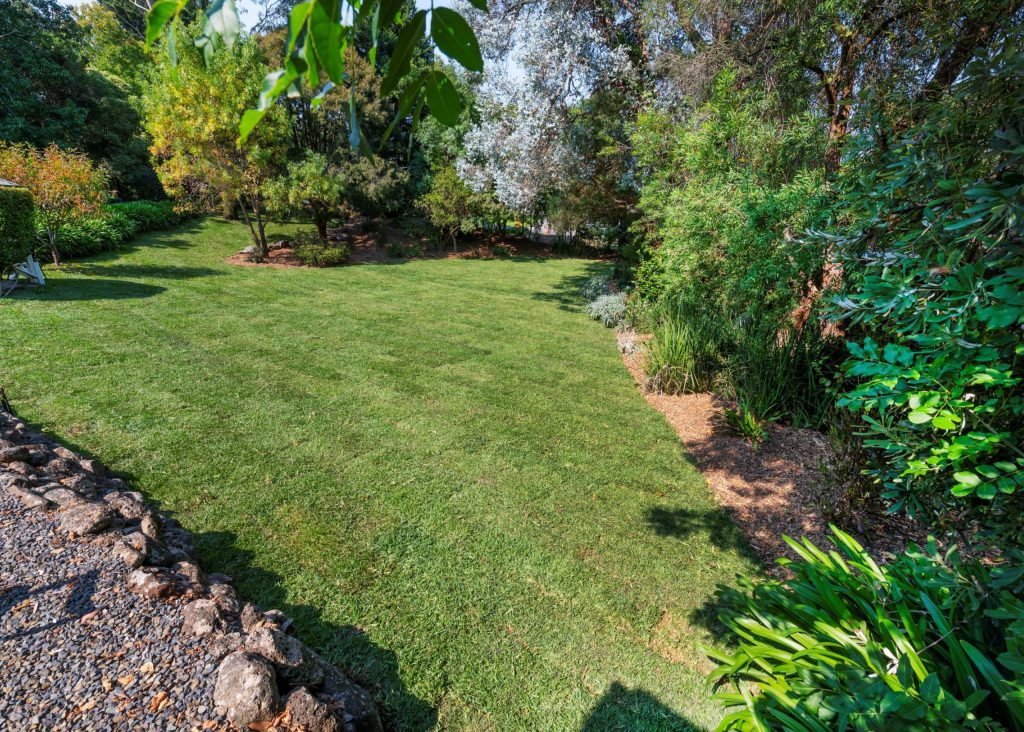 "The job is complete, we can't thank Dale and the team from myhomeTURF and Greenscene Environmental Solutions enough," Leigh said.
"The new lawn and area look fantastic I just want to get out here now, have a BBQ, kick the footy and run around with bare feet."
Post lawn care
So, the turf is in and looking fantastic – what an amazing project to work on and what a result.
Dale has three tips for Leigh to keep his lawn looking fantastic:
Water infrequently but deeply – generally in the morning.
Mow regularly on the highest setting so not to scalp or damage your lawn.
Fertilise at the start of each season.
BUDGET (estimated)
Prestige Buffalo 480m2
($16.50/ m2)                                                                             $7920
Delivery                                                                                     $100
HIRE:
Machinery (Bob Cats and Excavators)                                 $1200
Bin (to remove old lawn)                                                        $300
Topsoil 
(local topsoil with organic matter)
15m3 = 480m2 x 0.030 (30mm)                                            $975 (+delivery)
LawnPride's TruGyp Gypsum
$49.50/22.7kg (3 bags)                                                            $148.50
Organic Fertiliser Terralift TX10
480m2   20kg =                                                                         $104.50
LawnPride's Under Turf Starter & Water Crystals
480m2   4kg bucket                                                                $46.20
TOTAL                                                                                      $10,794.20
SHOP PRODUCTS USED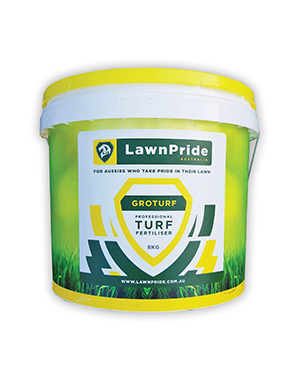 LawnPride Under TurfStarter 4Kg
LawnPride Under Turf Starter 10-8-5 + Water Crystals 4kg Fertiliser uses slow-release technology that will feed your newly laid lawn for up to three months. It is boosted with water crystals to aid in the reduction of moisture loss.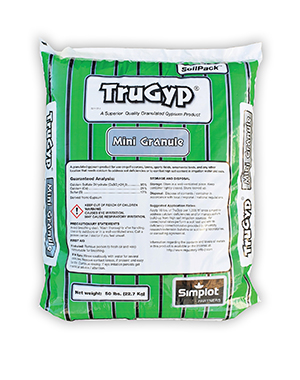 TruGyp 22.7kg
TruGyp 22.7kg is a new generation soil amendment consisting of granular calcium sulphate. The product has outstanding granule quality allowing for ease of application and rapid dispersion. TruGyp 22.7kg is suitable for use on Zoysia, Kikuyu, Couch and Buffalo grasses.
The recommended application rate for TruGyp 22.7kg is 5kg/100sqm.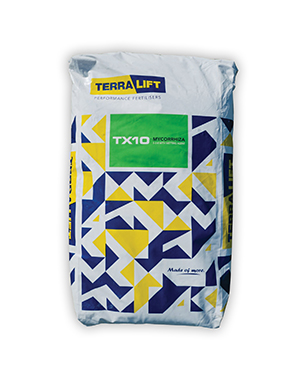 Terralift TX10 5-2-8 20kg
Terralift TX10 5-2-8 20kg is a multi-source organic granular fertiliser consisting of stable humus, seaweed extract, vegetable extract, proteins and 10 key components to soil fertility. The product is safe for use on Zoysia, Kikuyu, Couch and Buffalo grasses.
The standard application rate for Terralift TX10 5-2-8 20kg is 1.5-2.5kg kg/100sqm.
Source:  https://www.myhometurf.com.au/lawn-tips/the-biggest-luxury-lawn-makeover-made-easy/