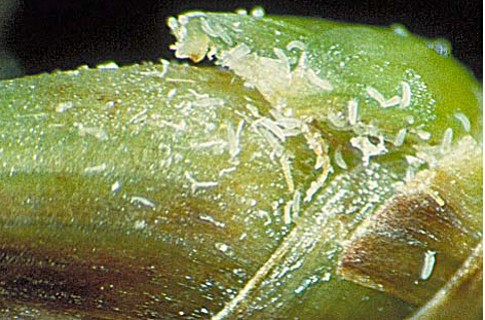 Couch Mites are tiny pests that are visible only through a magnifying hand lens or microscope.
The translucent bodies of juvenile mites are just 0.1mm to 0.15mm long and the cream/white adults measure up to 0.2mm.
They hide in the leaf sheath of Couch grasses – a habit which gives them their name – and feed on new growth. Other common names are Bermudagrass Mite and Bermudagrass Stunt Mite.
The first sign of Couch Mite damage is yellowing of leaf tips, followed by shortening of the internodes and leaves. This results in tufted growth known as "witches' brooms".
If you keep a close eye on what's happening in your garden, you'll be more likely to see this damage early and have a better chance of controlling an outbreak of Couch Mite.
Having said that, the appearance of even small areas of damage is an indicator of a heavy infestation of Couch Mite.
Left unchecked, Couch Mites breed quickly, and it can take only a matter of days for their population to explode and spread widely.
They can be spread by wind, on grass clippings, or piggyback on other turf insects.
Source:  https://www.myhometurf.com.au/lawn-tips/couch-mites/